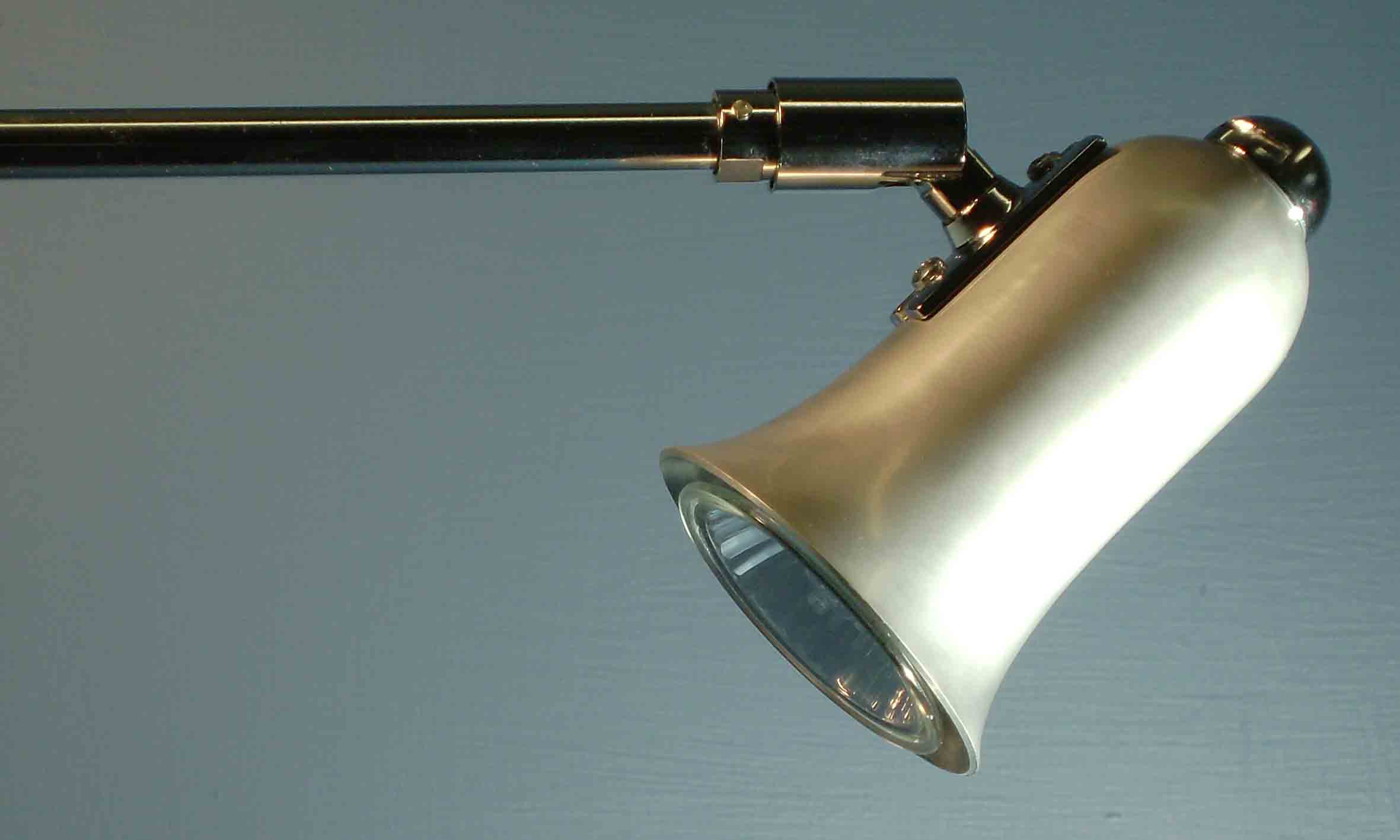 Available Options:
Fixed Mounted or Removable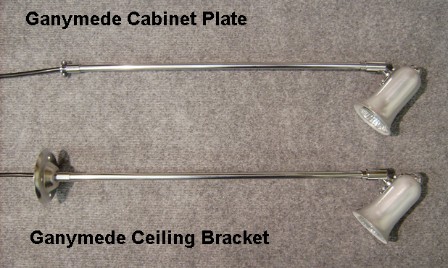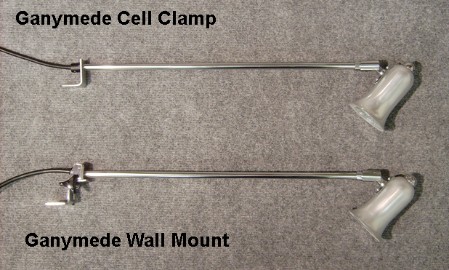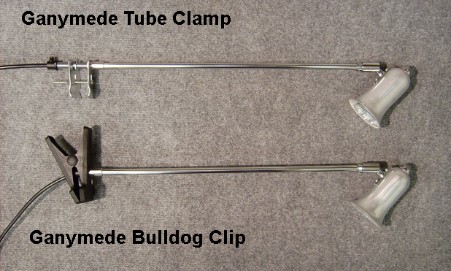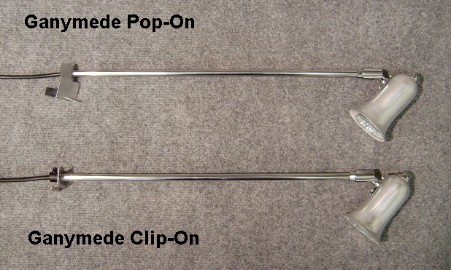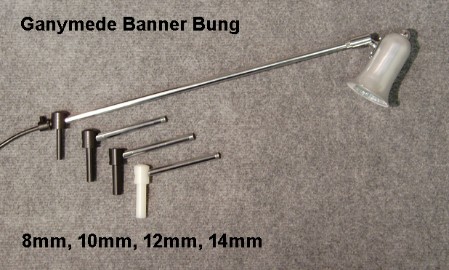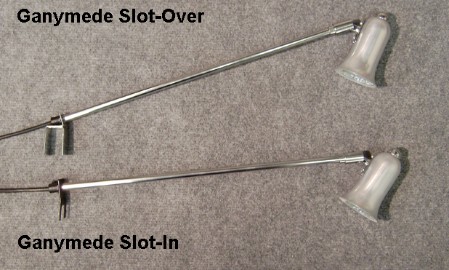 Ganymede LED - LED Exhibition Lighting

Ganymede LED Exhibition Lighting gives a stylish look to any display with the mains LED GU10 bulb discretely covered by the Ganymede LED head. These clip on spotlights are ideal for exhibitions and moveable or POP displays, but are equally at home in shop fit-outs or even in domestic situations. Exhibition Lighting is often hampered by the visual impact of the bulb housing; with the Ganymede LED this is completely eliminated, yet there is enough purchase to easily remove and replace old bulbs. This LED exhibition lighting is manufactured to withstand hard knocks and is finished in anodised aluminium or in matt-black. The head swivels through 180 degrees giving your clip on spotlights superb versatility.
Ganymede LED exhibition lighting is usually supplied with a 4 metre cable terminating in a UK 3-pin plug, but can be adapted to your needs. We can also supply all our mains LED lights on a "daisy chain system", where each light can be attached to the next in line and all connected back to a single mains plug (maximum 2000 watts).
To directly mount onto a wall or ceiling we have four options:
Ganymede LED Cabinet Plate (CP) is 25mm diameter with 3 screw holes. This is ideal for mounting in cabinets or discretely on furniture or displays.
Ganymede LED Ceiling Bracket (CB)
is 74mm diameter with 4 screw holes. This is ideal for built exhibition stands or shop fitting.
Ganymede LED Cell Clamp (CC)
is a simple right angled bracket with a hole in the base to bolt the light to a fixed surface (eg wall top or aluminium truss). This provides a simple yet effective way to semi-permanently mount the light.



Ganymede LED Wall Mount (WM)
is designed to mount the light onto the top of a wall using 2 screws (not provided). The arm can be mounted horizontally or tilted back above the horizontal using a simple tri-knob (un-tighten and re-tighten when in position)


To mount and dismantle your lighting we can offer the following nine removable options:

Ganymede LED Economy Clamp (EC)
is a simple clamp mechanism tightened from the rear using the circular knob. The clamp adjusts from 0mm - 57mm
Ganymede LED Klamp-On (KO)
is a robust versatile clamp allowing the arm and head to be positionned from horizontal to vertical as it comes out from the mount. The klamp-on adjusts from 16mm to 60mm
Ganymede LED Tube Clamp (TC) is our most versatile clamp, fitting tubes as well as boards. With rubber grips and an adjustment from 5mm to 50mm this is ideal for clamping a light in those difficult positions
Ganymede LED Bulldog Clip (BD)
is the simplest clip when speed of getting on and off is required. The very strong bulldog clip can clip to boards from 5mm to 50mm
Ganymede LED Pop-on (PO)
is designed for pop-up exhibition systems and simple clips under and over the cross members behind the graphics and is held in place by gravity. So simple and easy to attach and take down it is the ideal complement to any pop-up system
Ganymede LED Clip-on (CO / COMK / COSD)
is a simple cantilevered clip for shell-schemes, aluminium profile exhibition systems and board systems with grooves. Slotted into the groove or profile the light is simply held in place by gravity. Very simple to use. Call us to confirm the clip required
Ganymede LED Banner Bung (BB)
was designed for simple insertion into exhibition banners which have a hole in the upright pole. Because of their simplicity they can also be used in some aluminium profile exhibition systems and in any built stand by drilling a hole into the mounting point. Available in 8, 10, 12, 14mm bottom diameter
Ganymede LED Slot Over (SO)
is a saddle which slots over a board or profile. Easy on: easy off
Ganymede LED Slot In (SI) is designed with 2 flat prongs to slot into the Nomadic exhibition system
Options:
Colours: Available in anodised aluminium or matt black.

We can match your colour scheme by request and at extra cost.
Arm Options: 100mm, 200mm, 300mm, 400mm (same price) & Swan Neck (at extra cost).

We can manufacture the lights with a specific arm length by request and at extra cost
Bulb Options: The Ganymede LED uses the GU10 LED Bulb. Our standard bulb is the 4W, 36 degree, 30,000 hour bulb (which is equivalent to a 35W

halogen bulb)

We can supply other wattages on request
All photographs above in chrome & anodised aluminium with 400mm arm
Other LED Spot Light Designs